Ipod Players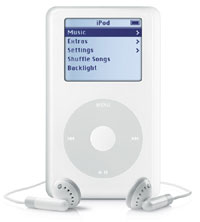 The super-slim iPod defines what a digital music player should be. It's lighter than two CDs, can hold up to 10,000 songs, thousands of digital photos and works as a personal voice recorder. Now you can sync with iTunes for Mac and Windows at blazing speeds, and take your entire music collection with you wherever you go.
SEARCH FOR GREAT PRICES FOR IPODS
The new 160GB Video Ipods can play videos as well as photos and music . Keeping the revolutionary click-wheel control makes it easy for you to scroll through and select your favourite tracks. In addition, you can use the click-wheel to select options on-screen, or increase your listening pleasure with the shuffle mode for random playback of your music.
Compatible with both PC and Mac computers, your ipod will provide you with hours of listening pleasure on the move
There are a range of adapters to help get the most from your Ipod music collection in the home and in the car
Compare Prices on Ipod Accessories