Installing TV, Network and Audio Sockets Outlets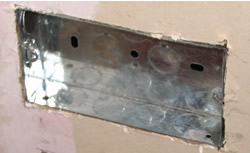 A key part of the project is to add socket outlets to your home so you can access your wired home. Whether it be TV, Network or Audio sockets you need to locate them in a position where you can easy access them but not where they will look ugly.
You have two main options for this. The first is harder but neater which is flush mounted. This means you have to cut out the wall to recess the socket box . The second option is to add a surface box which just screws on to the wall.
If you are planning to decorate then the first option is generally better. If your not then you are likely to make less mess with the surface mount option.