Computer Security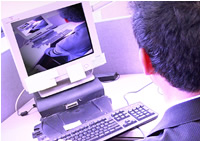 Computer security is protecting your computer and its contents against people or other computers gaining access to it.
Prevention measures help you to stop unauthorised users (intruders or hackers) from accessing any part of your computer system.
Detecting intruders and hackers helps you to determine whether or not someone attempted to break into your system, if they were successful,and what they may have done.
Remember you are responsible for what your computer does whilst you are logged on.
A firewall can help protect your computer and make it more secure [Buy Norton Internet Security]
For more information on firewalls, see our guide to firewalls
Its worth noting that no matter what you do it is impossible to completely secure your PC. We recommend that you always back up your computer regularly. Find out more about backup options