Hiding the equipment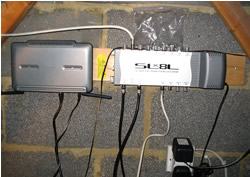 This picture shows how we hid the wireless router and TV distribution system in the loft.
A loft is a great place to route wires, most homes will have spaces where you can run wires up to the loft space e.g. using the back of wardrobes, soil pipes etc.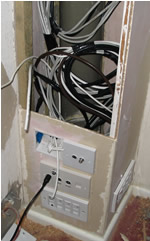 We used the back of the dressing room wardrobe (which was above the study) allowing us to route cables from our patch panel, up to the loft. The lounge was a problem but we fortunately had a soil pipe boxed in at one of the corners which made the perfect space to run TV distribution coax, telephone wires and CAT5e cables (see picture on the right.
The wireless router we used for this job was a Belkin, which cost about £60. It has the capability to connect to an adsl modem and has 4 ports. We only used the uplink connection to give us wireless networking capability [more]
If you go down the wireless network route make sure you encrypt your network otherwise you could be sharing all your personal files and internet connection with your neighbours or hackers in the area.

Its worth taping up cables in logical groups so that's its easier to work out which cable goes where.