Home Automation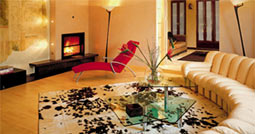 X10 Home Automation system uses your existing home electrical wiring circuits to create a way of automating your home appliances, lights and much more
Using a system called 'carrier current control' CCC the X10 solution sends signals from the controller devices which are then picked up by X10 receivers which are used to control the appliances.
Using a simple example of a integrating a lamp into the X10 Home Automation system you need a lamp module which plugs into the power outlet and will switch the light on and off.
X10 Home Automation works by sending bursts of control signals through your home electrical wiring at 120khz using binary e.g. 1=on 0 = off
X10 can be used for many applications such as lights, security, radio, curtain controls etc. However, be aware that some appliances such as microwaves etc can interfere with X10 and degrade its performance.
There are solutions that get round these problems but they all add to the overall cost of the system.