Wired Home Guide to Home Networking

The concept of home networking is relatively new for most home computer users. The cost of installing networking equipment has always been a factor when deciding to network two ore more PCs.
Now, partly due to broadband and the advent of wireless technology a home network is much more achievable.
If you are in a property that you are about to decorate and are happy to run cables in walls to network points then the home networking options are greater as the bandwidth is much higher.
However, if this doesn't appeal then very good results can be achieved using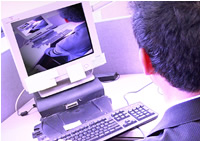 wireless routers, access points and network cards. You can of course have both which is the solution we will demonstrate in our project guide.
A wired network, built in to the fabric of your home is still expensive to do a professional job and create maximum flexibility. Our project shows how we add 3 network points and a telephone point to each room in. The network points will be used to plug in computers and also to distribute video and centralised music signals around the house.
We also show how you can distribute TV, video, Free View and Sky signals around the house. This is covered separately.
This section of the site shows how the set up a home network using Cat5e cabling and the sharing of files between computers.
| | |
| --- | --- |
| The advantages of home networking with Broadband ADSL | |
| Extending a Wireless (Wifi) network - we explain the options | |
| Using your loft to run network cabling | |
| Locating and installing your network hub and patch panels | |
| Adding wall sockets | |
| Using a router to network your PCs and connect to the internet | |
| Wireless Routers | |
| Network Storage | |
| Sharing your internet connection | |
| IP Addresses Explained | |
| Streaming Music using Netgear MP101 around a wired network | |