Netgear MP101 Wireless Digital Music Player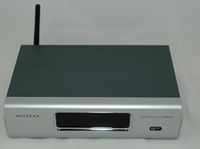 You can
Listen to your MP3s, WAV and windows media format digital music files from anywhere in your home
Connect with a 802.11b or 802.11g wireless adapter or Ethernet adapter with cable for at least one computer
The MP101 will allow you to connect your existing home stereo to your home computer network
Remote control and crystal clear, four-line display let you select music quickly and easily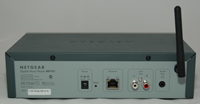 How Do I Install It?
Connect the cable to your stereo, install the software on one networked PC, and you're ready to listen! The media server software automatically finds all the MP3, WAV and windows media format digital music files stored on any networked PC in your home.
The image on the right shows a closer view of the connectivity for the MP101. As such can see it supports WiFi and wired networks. However, connection to Home Entertainment equipment is limited to analogue.

We found on a wired network that the Netgear MP101 is very easy to configure requiring software on a networked PC and that's pretty much it. The software scanned the hard disk for media and found the MP101 and we were ready to go.
Specifications
Supported file formats: MP3 up to 320 Kbps or variable bit rate (VBR), WMA 8/9 to 320 Kbps, WAV files, Internet radio (streaming MP3)
Playlist formats: M3U, PLS, ASX
Outputs: RCA audio jacks to connect to your stereo, signal to noise ratio:> 92dB (A-weighted), 1/8" stereo mini-plug for headphones or powered speakers, maximum output power: 55mW (16ohms)
Antenna: 2dBi antenna
Network speeds: wired LAN: 10/100Mbps Ethernet, RJ45 (auto sensing and auto uplink), wireless: 11, 5.5, 2 and 1Mbps
Security: Hardware-based wired equivalent privacy (WEP) 40/64bit and 128bit encryption
Standards capability: 802.11b standard compliant (connects to 802.11b or 802.11g networks)
Physical specifications: dimensions (w x d x h): 271 x 221 x 44mm (10.7 x 8.7 x 1.4inches), weight: 0.62Kg (1.4lb)
OS support for Windows 98SE, ME, 2000, XP
2 year manufacturers warranty
What's Included?
Netgear MP101 Wireless Digital Music Player
Remote control (2AA batteries included)
Power adapter 12 V DC, 1.2 A
Ethernet cable
RCA stereo audio cable
Installation guide
Reference manual
Resource CD
Warranty/support information card